Webinar: The Biography of William Garner Sutherland with Jane Stark DO
Einloggen
- oder -
Registrieren
---
---
Selbststudium
Selbststudium nicht notwendig
---

Probleme bei der Anmeldung für einen Kurs? Senden Sie uns eine E-Mail über info@pro-osteo.com
Beschreibung
Brief description.
In a colourful and entertaining presentation, the osteopathic historian  Jane Eliza Stark, will take us through the life and times of William Garner Sutherland.
Important questions will be answered such as how did he arrive at his cranial ideas, how did he develop such a highly refined sense of palpation, and why were the patients that he treated during the Great Influenza Pandemic important to his development of the cranial concept?
Time is allotted for questions and answers so please be sure to have a question ready to ask.
About me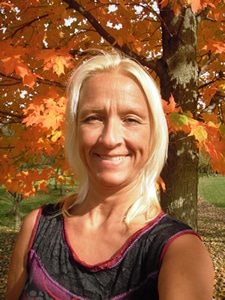 Jane Eliza Stark is the author of a new book on the early life of William Garner Sutherland, called Journeyman. Jane is an osteopathic manual practitioner who lives and practices in the countryside about fifty miles west of Toronto, Canada. Besides osteopathy (D.O.M.P.), Jane holds credentials in the fields of athletic therapy (CATc), kinesiology (RKin), and pharmaceutical research administration (MS). She has also completed the Evolutionary Osteopathy (EVOST) program in Europe, which she credits with solidifying her understanding of the importance of historical context.
Jane's primary passion is researching and synthesizing osteopathic history. In 2000, she began examining the life and times of Andrew Taylor Still, osteopathy's founder. That project not only fulfilled the requirements for a diploma in osteopathy from the Canadian College of Osteopathy, but also became her first academic publication, Still's Fascia: A Qualitative Investigation to Enrich the Meaning Behind Andrew Taylor Still's Concepts of Fascia. Since that publication, Jane's interest has focused on important osteopaths and corresponding events of the late 1800s, culminating in her newly-released book, Journeyman: William Garner Sutherland, the Formative Years (1873-1900).
Jane has the unique ability to situate osteopathic figures, such as A.T. Still, John Martin Littlejohn, and now William Garner Sutherland, in their historical context, thereby enhancing the relevance of otherwise inconsequential lists of facts, probabilities, and possibilities. Her historical renditions are carefully constructed to limit author bias, allowing the reader the freedom to make his or her own determination of the significance of each element of the story. In addition, Jane always provides an easy-to-follow and thoroughly documented set of references, so not only are her writings verifiable, but also serve as lasting and reliable reference works.
In addition to practicing, researching, and writing, Jane has lectured internationally and has taught seminars on many subjects, such as a fluidic approach to fascia, osteopathic history, A.T. Still, the Spanish flu, spirituality in early osteopathy, considerations for patients with acute low back pain, and Sutherland's approach for patients recovering from influenza. With her travel currently limited by COVID-19 restrictions, Jane is busy working on the companion volume to Journeyman, which is to be titled Fulcrum: William Garner Sutherland, the Professional Years (1900-1954). Find out more about Journeyman.  www.williamgarnersutherland.com or https://www.facebook.com/WGSutherlandDO